Digital Profits Podcast – Episode 9: What To Do When Your Marketing Is Off Track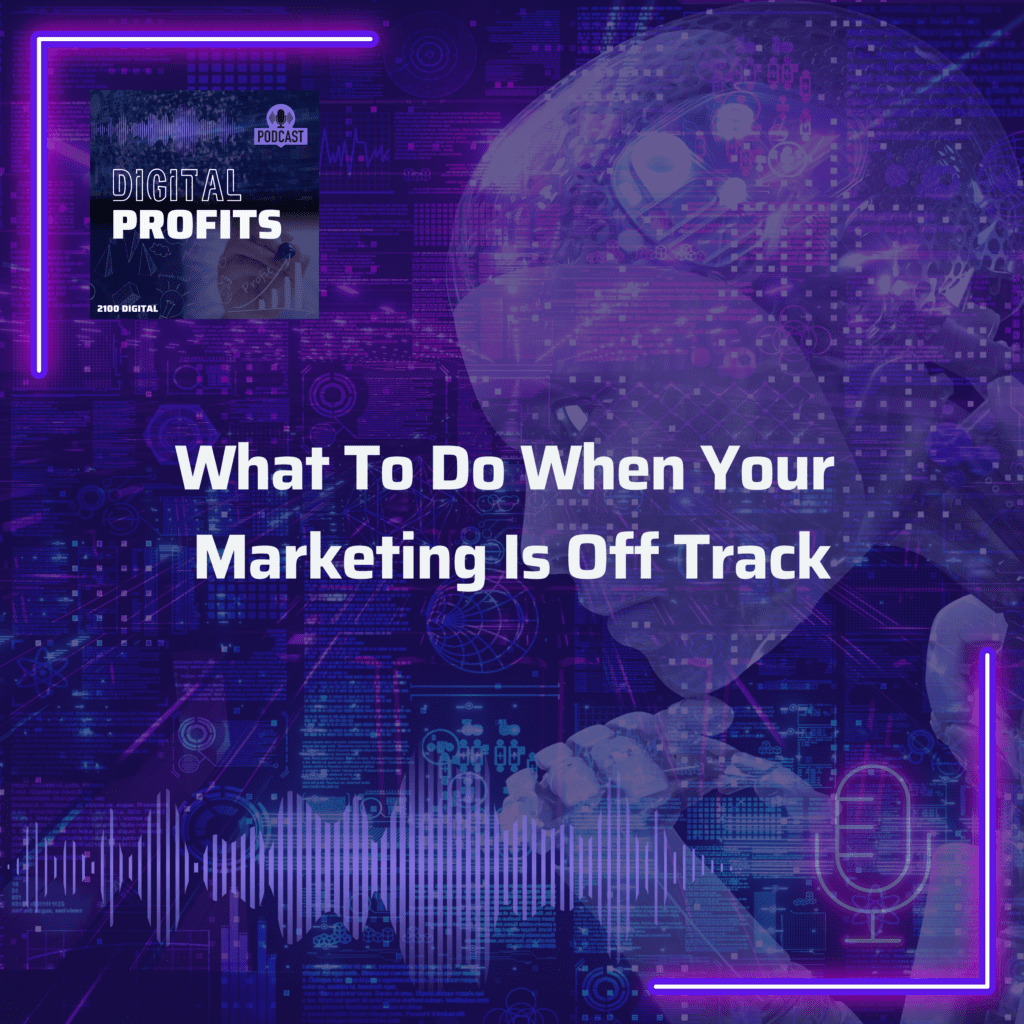 Do you feel like no matter how hard you work, your marketing strategies still aren't making the impact you want? You're not alone! Crafting an effective digital marketing strategy that drives results takes more than hard work and dedication. Fortunately, there are data-driven solutions to help take your efforts to the next level.
By uncovering key metrics, understanding your audience better, and leveraging the right strategies and tactics tailored to your business goals, you can get closer to optimizing your campaigns for success. In this blog post, we'll show you how to do exactly that!
Understand Your Goals:
Take time to define the desired outcome of your marketing efforts before diving in.
When it comes to marketing, you want to be sure you're not just throwing everything at the wall and hoping something sticks. That's where defining your goals comes in. Take the time to really think about what you want to achieve with your marketing efforts. Do you want to increase brand awareness? Drive sales? Build a loyal customer base?
Once you've defined your desired outcome, you can create a clear plan of action and measure your success along the way. Taking the time to understand your goals will pay off in the end and make all your hard work worth it.
Research and Analyze the Data:
Collecting all relevant data points, understanding trends, and utilizing predictive analytics can open up a world of possibilities for growing your business.
When it comes to growing your business, collecting and analyzing data is crucial. But it can seem overwhelming, with so many data points to consider. That's why it's important to take it step by step. Start by gathering all relevant data points. This could be anything from customer feedback to website traffic to sales data.
Once you have all of this information, you can start to see trends and patterns. And with the help of predictive analytics, you can even make informed predictions about future trends. Don't be intimidated by the data. It's your greatest ally in growing your business.
Identify Opportunities and Challenges:
Use data to uncover opportunities and threats in the marketplace and develop strategies to capitalize on them or mitigate their effects.
As a savvy entrepreneur, you know that identifying opportunities and challenges is essential for staying ahead in a constantly evolving marketplace. Using data-driven insights can help you uncover new possibilities and potential threats. By analyzing trends, patterns, and customer behavior, you can develop effective strategies that will allow you to capitalize on opportunities or mitigate potential risks.
However, it's important to remember that challenges will always be present, and how you approach them will determine your success. With a proactive mindset and a deep understanding of your industry, you can confidently navigate the ever-changing landscape and achieve your business goals.
Leverage Automation and AI:
Take advantage of technology-driven solutions that can help you reduce manual work, automate tasks, streamline processes, and identify key insights quicker and more accurately than ever before.
Looking to optimize your daily workload? Look no further than leveraging automation and AI solutions. You don't have to be a tech wizard to take advantage of technology-driven solutions that can make your job easier and more efficient.
By automating tasks and streamlining processes, you can take on more challenging work that requires your creative problem-solving skills. Imagine being able to identify key insights quicker and more accurately than ever before. It's possible with automation and AI. Embrace the future of work and let technology help you reach your goals.
Optimize Your Efforts Regularly:
Set goals, measure progress, analyze results, test hypotheses, adjust tactics as needed. It's an ongoing cycle that will help you stay ahead of the competition and maximize ROI from all marketing investments.
In today's fast-paced world, setting goals, measuring progress, analyzing results, testing hypotheses, and adjusting tactics is crucial. This ongoing cycle will keep you ahead of the competition and help you make the most of your marketing investments. Don't get complacent; keep testing and tweaking until you achieve the results you desire. Remember, Rome wasn't built in a day, so patience is key, but consistent optimization will help you be successful in the long run.
By adopting a data-driven approach to your marketing efforts, you can systematically identify and leverage insights for growth. Delve deep into all the available metrics and use predictive analytics to uncover potential opportunities. Leverage automation and AI where possible. Not only will this save time, but it will also allow you to pinpoint exactly what's working and fine-tune your strategies.
Most importantly, don't become complacent! Keep track of key performance indicators, optimize constantly, and stay ahead of the competition. That is how you will succeed in today's crowded digital market! With these tips in mind, you are now well equipped to take on any marketing challenge that comes your way.
Tune in to our latest podcast episode and listen to the Profit Squad delve into the world of Data-Driven Marketing Solutions with expert insights and uncover key metrics, strategies, and tactics to overcome marketing challenges and optimize your efforts today!