Digital Profits Podcast – Episode 4: Comepetitive Intelligence in Digital Marketing Strategy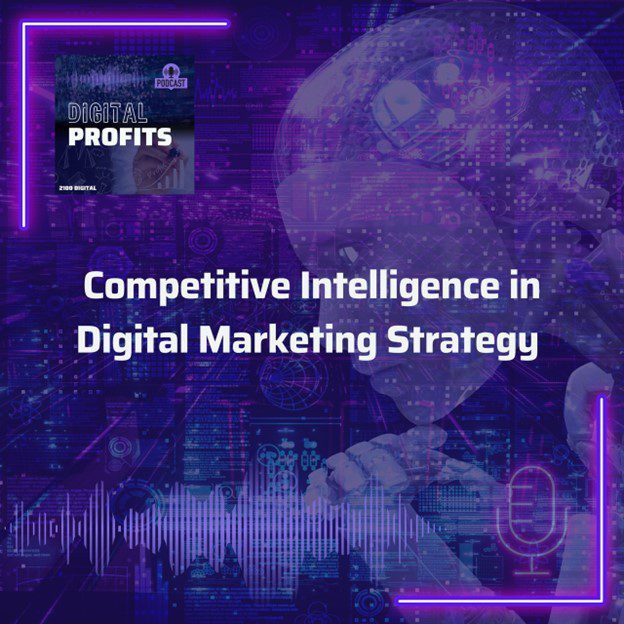 Are you looking to build a digital marketing strategy that gives you an edge over your competition? With the right competitive intelligence and analysis, you can unlock insights that will allow your business to stay ahead of the curve. But how do you identify those advantages and gain actionable intelligence about your opponents' strategies? Let's detail exactly what competitive intelligence is and why it's so important for developing effective online marketing strategies. Get ready to take your strategy game up a notch!
What Is Competitive Intelligence and Why Does It Matter in Digital Marketing Strategy
You may have heard the buzz surrounding competitive intelligence, but do you really understand its relevance to your digital marketing strategy? Essentially, competitive intelligence is the practice of gathering and analyzing information about your industry competitors. It tells you what their digital marketing does well and what they could do better, which can help you improve your own strategy.
By keeping tabs on your competition, you gain a better understanding of market trends, potential threats, and opportunities for growth. In today's fast-paced digital landscape, staying ahead of the game is crucial. Competitive intelligence is the tool that can help you do just that.
Identifying Competitors and Their Strategies in the Digital Space
When it comes to identifying competitors and their strategies in the digital space, you want to approach it like an expert friend. While it may seem overwhelming at first, there are a few key steps you can take that will help you navigate the competitive landscape with ease.
First, take the time to research your industry and identify the top players. Once you have a list of potential competitors, examine their online presence, analyzing their website, social media accounts, and any digital marketing campaigns they have in place. By understanding their tactics, you can better position yourself and tailor your own strategy to stand out in a crowded market. Remember, being an expert in your field means constantly learning and adapting, so stay curious and keep exploring!
Gathering Data to Analyze Your Competition
So, let's say you're now looking to analyze your competition. First things first, you need to gather data. And not just any data, but data that will give you a real understanding of what your competitors are doing. This means you need to take a deep dive into their website, social media accounts, and any other public-facing platforms they use. Look for things like how often they post, what kind of content they share, and how engaged their followers are.
This information will give you a clear picture of what's working for them and what's not. Once you've gathered this data, it's time to analyze it and use it to your advantage. Your competition won't know what hit them.
Key Factors for Creating a Winning Digital Marketing Strategy
To create a winning digital marketing strategy, there are a few key factors that you need to consider. First, you must have a deep understanding of your target audience. Without this understanding, your messaging could fall on deaf ears. Second, you need to establish clear and measurable goals for your campaign. You need to know what you want to achieve so that you can track your progress and make adjustments as needed.
Third, you must have a comprehensive plan for your content creation and distribution. Your content needs to be high-quality, timely, and relevant to your audience in order to be effective. Finally, you must be willing to continuously analyze and evaluate your results so that you can refine your strategy and stay ahead of the competition. When these factors are in place, you'll be well on your way to creating a digital marketing strategy that truly delivers results.
Leveraging Your Competitive Intelligence to Outrank Your Competitors
You've done your research, collected data, and analyzed the competition's moves, now what? Leveraging your competitive intelligence is crucial if you want to outrank your competitors. It's not just about knowing what they're up to but using that information to your advantage. Dig deeper into their strategies and tactics, and find ways to improve upon them.
Think about what sets you apart and how you can capitalize on your strengths. Remember, it's not just about copying what others are doing but finding your own unique approach. With the right mindset and strategy, you can use your competitive intelligence as a strategic advantage to take your business to the next level.
Staying Ahead of the Curve with Regular Assessments and Adjustments
How can you stay ahead of the curve? You can do so by regularly assessing and adjusting your strategies. Whether you're a business owner, a student, or simply working toward a personal goal, taking the time to evaluate your progress and identify areas for improvement can be incredibly valuable.
By regularly assessing your performance and making adjustments as needed, you can stay on track toward your goals and ensure that you're making the most out of your efforts. Remember, success requires not just hard work but also a willingness to adapt and change over time. So, don't be afraid to evaluate your progress, make adjustments, and keep moving forward.
This is all easier said than done, but it doesn't have to be overwhelming, given the right research tools and resources. Ultimately, competitive intelligence helps ensure that you're putting your business in the best position to succeed in today's ever-changing digital landscape.
Don't let your competitors outsmart you in the digital marketing game. If you're serious about taking your digital marketing strategy to the next level, listen to the latest episode of the Digital Profits Podcast on Competitive Intelligence in Digital Marketing Strategy. Gain insights on how to identify your true digital competitors, understand their tech stack, tools, and strategies, and analyze their site structure to identify gaps that your business can fill. Discover how tools such as Call Tracking Metrics, Salesforce, Hot Jar, Microsoft Clarity, and Screaming Frog can help you gain a competitive edge. Plus, learn about keyword gap analysis, content gaps, and user intents, and how they can improve your SEO efforts. Take action now and outsmart your competition to grow your business faster!