Digital Profits Podcast – Episode 2: How to Craft a Winning Marketing Budget in 2023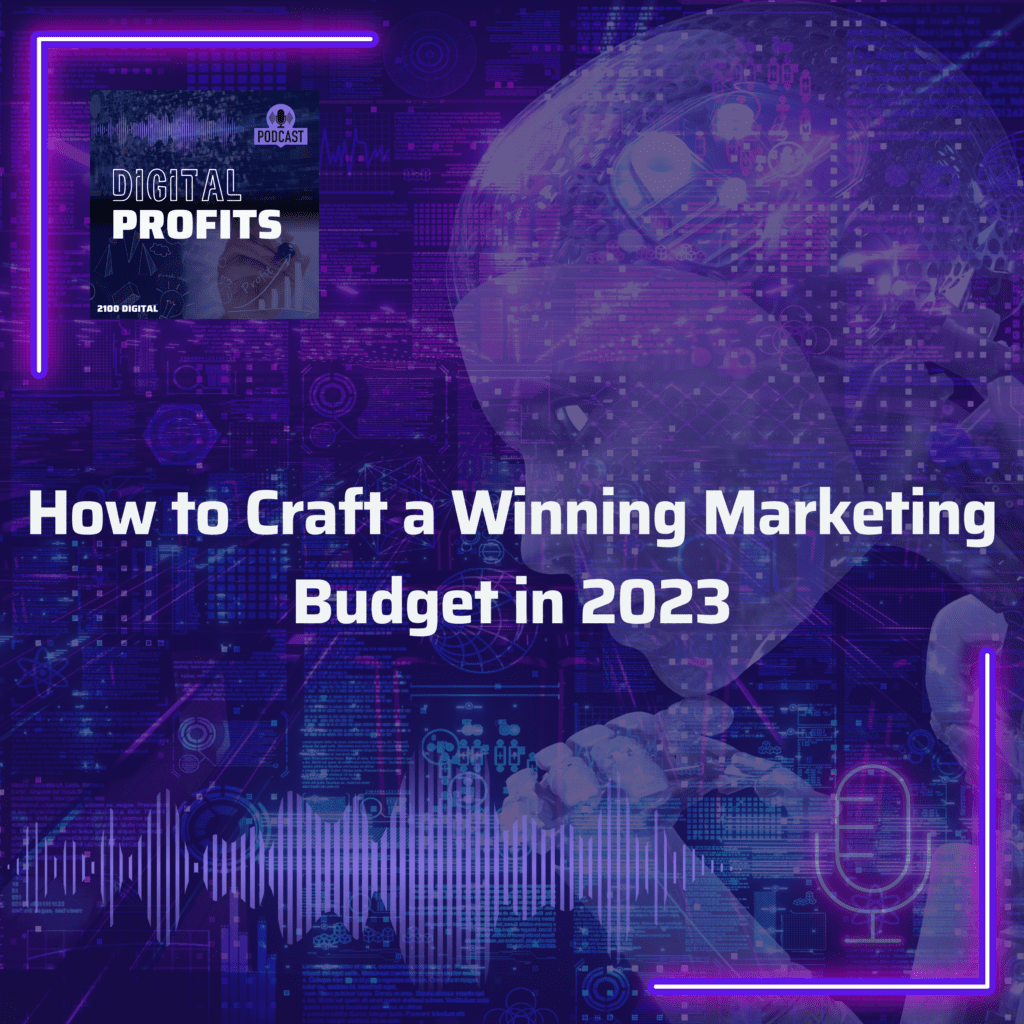 As a digital marketer, you need to be smart with your money. That's why it's important to have a winning marketing budget. With a few simple tips, you can make sure that your marketing dollars are well-spent and help your business succeed. Here's what you need to know about creating a winning marketing budget.
Determine your marketing goals and what you want to achieve with your budget
SEO and PPC are two important digital channels that you should think about and put money into because they can help people find your brand and help you reach your business goals. SEO involves optimizing webpages and content and increasing website traffic organically by leveraging search engine algorithms. PPC involves establishing a presence in sponsored search engine results for specific keywords or phrases. With the help of SEO and PPC, you can reach potential customers with relevant messages, increase conversions through effective targeting, measure success over time through detailed analysis of performance metrics, and make sure that every dollar you spend on marketing gives you the best possible return on your investment.
Research your target audience and figure out where they spend their time online
Every business, no matter what size or type, needs to take the time to learn about their target audience. Start by looking at competitor data to get an idea of who's already engaging with their content. Knowing this information allows you to develop a better plan for targeting relevant users. After that, focus on where these people are spending their time online. Platforms like social media and forums can be great sources of information because they'll provide insights into what your target audience likes, what they're talking about, and the language they prefer using. With the right research, you can be strategic in your approach when it comes to bringing in new customers and building long-term relationships with existing ones – both offline and online.
Find creative ways to reach your target market without breaking the bank
It's helpful to start by understanding exactly who your target market is. Look at factors like age, gender, lifestyle, and buying power. Once you have this information, you can start researching how best to reach these people. There are plenty of affordable options out there. Consider social media, email campaigns, or even working with micro-influencers in the community if it applies. You could also look into attending events or setting up a stall in high foot-traffic areas, as people are often open to hearing from a variety of businesses when they're out and about. Don't be afraid to think outside the box and come up with unique methods that your competitors might not be doing yet! Brainstorm some ideas with colleagues and see what works best for your budget.
Test different marketing strategies and analyze the results to see what's working
You can try out multiple tactics, assess whether or not they work, and make adjustments as necessary. You'll want to track metrics like open rates, click-through rates, conversions, and other indicators of success so you can accurately measure results. It's also important to remember that paid campaigns serve different purposes and should be used strategically. Depending on what you want to achieve, it might be better to use paid ads alongside organic content rather than relying solely on paid efforts. Doing some trial-and-error experimentation will teach you which types of paid campaigns bring the best returns on your investment.
Adjust your budget as needed based on your findings and keep track of your progress
Adjusting your budget isn't something to be afraid of. It's actually a great way to get an idea of what you need and don't need in your financial life. Start by creating a budget that works for you and keeping track of it. Then, based on the kind of progress you make, you can start adjusting certain categories or amounts. For example, if money is left over in one category and a deficit in another, redistribute those funds so you can use them to improve other areas of your finances. There are also plenty of resources out there to help you if needed. Making sure your budget is up-to-date means that no matter the situation or purpose, you are ready to take action and make the most out of your finances!
Overall, having a refined marketing strategy is key to getting the best return on your investment. Remember to identify what you want to achieve and ensure your budget allows you to do so. Researching both your audience and potential options for digital marketing should be an ongoing process, as the market changes quickly. During this journey, have fun experimenting with different strategies, but also be sure to track their progress so you can adjust accordingly. At the end of it all, if done correctly, this digital marketing strategy should serve as a springboard for further success. Now that you're prepared to create a successful digital marketing strategy with a realistic budget, take things one step further and listen in on Episode 2 of the Digital Profits Podcast where we share insights on how to leverage content marketing for maximum impact!