Digital Profits Podcast – Episode 3: The 5 Reasons Why Digital Marketing Agencies Fail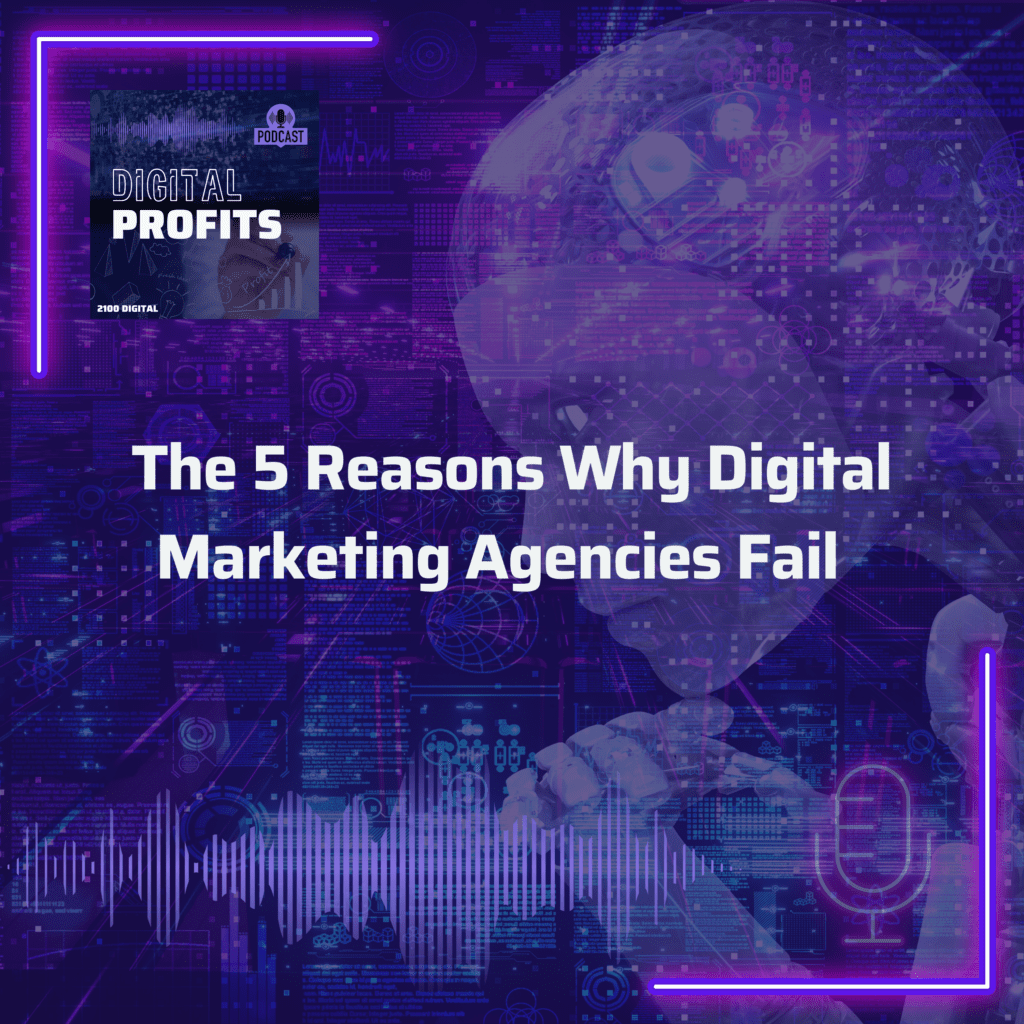 If you're looking to get the most out of your digital marketing agency, it's important to build a strong partnership with them. Here are some tips on how to do just that:
1. Establish clear objectives and communication channels from the outset.
2. Set regular check-ins and performance reviews to ensure everyone is on track.
3. Be transparent about budgets and expectations to avoid surprises down the line.
4. Get input from your team and agency partners throughout the process.
5. Keep an open mind and be willing to try new things – success seldom comes from doing things exactly as they've always been done!

By following these tips, you can develop a productive, long-lasting relationship with your digital marketing agency that will help take your business to the next level.
Do your research and choose an agency that you feel confident in and who has a good track record
With so many choices, you need to be sure that your decision is the right one. Do your research and choose an agency that you feel confident in and has a good track record. Look for customer testimonials, ratings, and reviews, as these will give you insights into the level of service and satisfaction offered by an agency. Speak with prior clients, if possible, for honest feedback about their experiences.
Draw up a contract that outlines both parties' responsibilities, including deliverables, timelines, and payment terms
Setting up a written contract between two parties helps to keep everyone accountable and organized. Instead of leaving the details to be sorted out later, crafting a contract with agreed-upon deliverables, timelines, and payment terms will ensure that expectations for both sides are spelled out clearly at the outset. Not only does this make life easier for all involved in the long run, but it also serves as legal protection in the event of any disputes that may arise. Writing an effective contract to codify such agreements is always time well spent.
Communicate regularly with your agency partner, providing feedback and updates on progress
Regular communication with your agency partner is essential for maintaining a successful working relationship. Keeping your partner updated on progress and providing feedback as needed will allow them to better deliver on the agreed-upon objectives. Having open, honest conversations before, during, and after projects will create an atmosphere of collaboration that produces the most beneficial outcomes. Not only that, but also making sure you stay connected – this way you will have a better understanding of their operations and they will understand yours. Establishing good communication channels upfront will ensure that both partners are able to work together smoothly throughout the entire project, resulting in a great final product for both parties!
Celebrate successes together and learn from any setbacks to continue improving the partnership
A good partnership is all about celebrating success and learning from setbacks. When both sides can come together to do those things swiftly and effectively, the partnership thrives. Every time the partnership makes an accomplishment, it's important to take some time to reflect, recognize the achievement, and celebrate what was accomplished. On the flip side, it's just as important to not get discouraged when things don't work out according to plan. Every setback should be embraced as an opportunity for improvement, so that the next step of the partnership can include new lessons learned from trial and error. In this way, any successes or setbacks are simply fuel for a positive forward momentum.
Partnering with a digital agency is not only beneficial, but it can also help your business reach new heights. Taking the time to plan effectively and create an actionable structure will take some effort, but it will set your business up for better success in the long run. Involving your team throughout the development of the partnership will ensure everyone is on the same page while still having their ideas heard. By defining goals, researching potential partners, outlining expectations, and staying connected through ongoing communication – you'll have all you need to launch an effective and successful agency partnership. Leveraging a dedicated partner's web design and development knowledge allows you to stay focused on running your day-to-day operations. And if you ever find yourself needing some extra support or advice, be sure to listen to the latest episode of the Digital Profits Podcast, EP 3: Partnerships with Your Digital Agency for helpful tips on how to create successful agency partnerships that create real impact!