Digital Profits Podcast – Episode 15: How to Market a Local Service Business from Scratch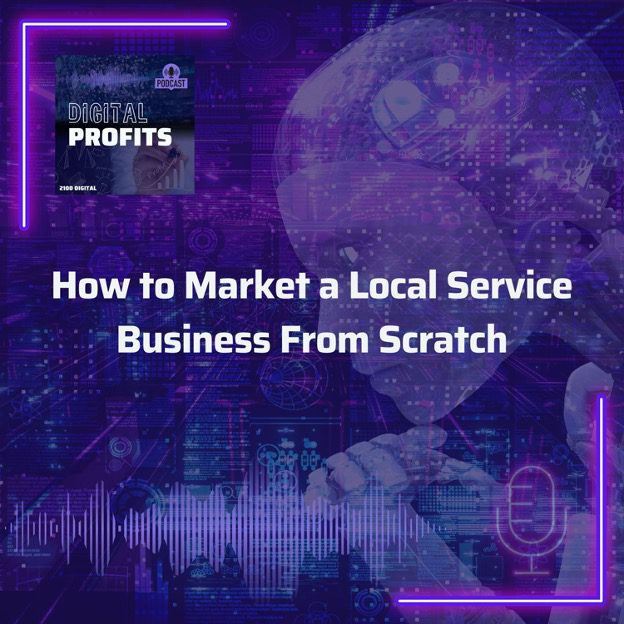 Do you dream of seeing your local service business succeed? You can make it a reality with the right marketing strategies. Doing so from scratch, however, isn't easy. And that's why we've put together this guide!
Here you will find out how to create a comprehensive game plan to get your local service up and running, without spending a fortune on flashy campaigns or expensive ads.
With our tips and advice, you'll have the knowledge needed to engage potential customers quickly and effectively, all while staying within budget!
Join us as we explore how to take your local business from zero visibility to household name.
It's important to understand who your ideal customer is and what their needs and problems are. By doing so, you can effectively tailor your product or service to meet their demands and increase your chances of success.
Identify your target market – who are the people you are trying to reach, and what are their needs/problems that your business can solve or provide a solution for
Maybe you're trying to solve a problem that only a specific demographic faces, or maybe you're providing a solution that will benefit people from all walks of life. Either way, knowing your target market is crucial in today's competitive market.
Create content that resonates with your target audience – blog posts, videos, infographics etc.
It's not enough to simply put out information and hope for the best. Your content needs to be engaging, informative, and above all, relevant to your intended audience. Whether you're creating blog posts, videos, infographics, or any other type of content, you need to approach it with energy and persuasion.
By using a friendly tone that speaks directly to your audience, you can create a connection that will keep them coming back for more. So, go ahead and create that content that speaks to your audience, and watch as your followers and fans grow.
Utilize local SEO tactics to get your business in front of people searching in your area
Are you looking to get your business noticed by the people who matter most? Then use local SEO tactics. By utilizing strategies designed to target people searching for businesses in your area, you can boost your visibility and ultimately drive more sales.
From optimizing your website for local keywords to creating listings on platforms like Google My Business, the opportunities to get ahead of the competition are endless. What are you waiting for? Invest in local SEO tactics today and watch as your business reaches new heights.
Join relevant online communities and start conversations
These communities offer the perfect platform to interact with people who share our interests and passions. Being a part of these groups opens up new avenues for learning, sharing opinions, and even forming friendships.
So, if you have a hobby or interest that you want to explore more deeply, the first step is to join relevant online communities. Here, you will find people who are as passionate as you are and are always eager to start conversations. So, don't hesitate, get online and start connecting with like-minded individuals!
Leverage local influencers – find individuals who are an authority in the space and connect with them
Start leveraging the power of local influencers. These individuals are the ones who hold the knowledge and expertise in specific areas that your brand can benefit from. Connecting with them is an opportunity to reach out to a wider audience and boost your brand's credibility.
By partnering with them, you can tap into their loyal followers and take advantage of their influence to promote your brand and offerings. Engaging with local influencers can be a game-changer for your brand, and we're here to help make it happen. Remember that you can amplify your brand through the help of local influencers.
Make use of paid advertising to boost visibility and drive traffic
With the right strategy and execution, paid advertising can do wonders for boosting your online visibility. Don't be intimidated by the idea of spending money on advertising. When done correctly, the return on investment can be well worth it.
Think of paid advertising as a shortcut to getting your brand and message in front of a larger audience. Take control of your online presence and watch the traffic pour in with the help of paid advertising.
Analyze the results of your efforts and track progress regularly
Think about it: How will you know if you're on the right track or not if you don't keep an eye on your progress? Whether you're trying to lose weight, learn a new skill, or grow your business, tracking your progress can help you identify what's working and what's not.
Plus, it's a great way to stay motivated and see how far you've come since you started. So, if you're serious about reaching your goals, make sure you take the time to review your progress regularly.
In order to gain a competitive edge in your local market, it's essential that you identify the biggest needs and problems of your target audience and create content that resonates with them.
Additionally, utilizing a combination of SEO tactics, joining relevant online communities, leveraging local influencers, and paid advertising are all effective strategies for doing so. Don't forget to also track the results of your efforts regularly and make adjustments accordingly.
Tap into the power of local marketing today and level up your marketing game when you tune in to EP 15: How to Market a Local Service Business From Scratch of the Digital Profits Podcast with the Profit Squad. Listen now for essential tips on launching a thriving local service business!