Digital Profits Podcast – Episode 5: Creating an SEO Strategy that grows Marketing Qualified Leads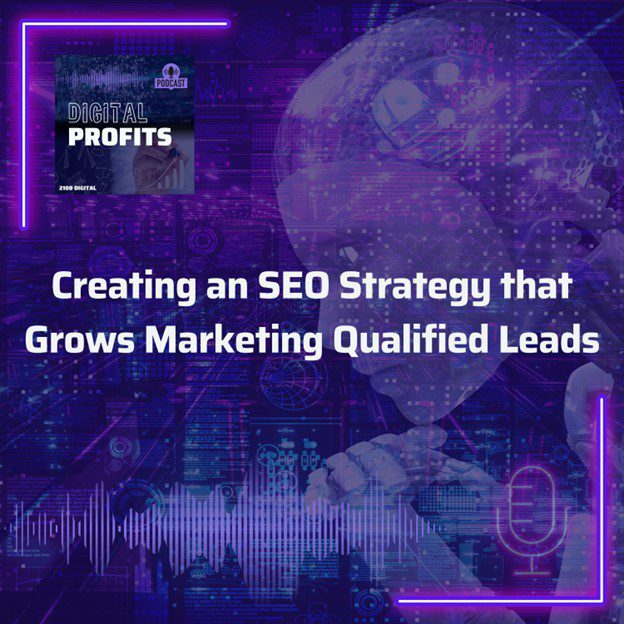 Are you looking to take your digital marketing strategy up a notch by increasing your number of high-quality prospects? Creating an SEO strategy with the goal of growing Marketing Qualified Leads (MQLs) is one surefire way to do it. Not only does SEO have the power to give your website greater visibility, but also equips you with tools for accumulating data that can help inform and improve other aspects of your marketing efforts.
An effective SEO plan requires careful thought about how best to target your desired audience, which keywords will generate interest, and determining which type of content fits the needs and interests of this group. Read on if you're eager to learn more about crafting an impactful strategy that produces measurable results!
What is an SEO Strategy and Why is it Important for MQLs?
An SEO strategy is the foundation of your digital marketing efforts. It's not enough to just have a website. You need to ensure that it can be found by potential customers searching for what you offer. An effective SEO strategy involves optimizing your website's content and structure, building high-quality backlinks, and staying up-to-date with the latest search engine algorithms.
By implementing a strong SEO strategy, you can greatly increase your chances of generating MQLs (marketing qualified leads) by making sure your website appears at the top of search results. Remember, your competition is likely investing in SEO, too, so it's crucial to stay ahead of the curve.
How to Identify Your Target Audience and Keywords
When it comes to identifying your target audience and keywords, it's important to think like an expert but speak like a friend. You want to come across as knowledgeable and trustworthy but also approachable and relatable. Start by identifying who your ideal customer is and what they are searching for. What are their pain points, and how can you address them in your content?
Once you have a clear picture of your target audience, it's time to do keyword research. Look for phrases and terms your ideal customer would type into search engines. Use these keywords strategically throughout your content to ensure that it shows up in search results and reaches your intended audience. Remember, the key to successful marketing is understanding your audience and speaking their language.
Tips for Optimizing Your Website Content for SEO
I know you're always looking for ways to improve your website's SEO. One important factor to consider is your website content. Optimizing your content with relevant keywords can help ensure your site appears higher in search engine rankings. But it's not just about stuffing your content with keywords, you also need to make sure it's high-quality and engaging for your audience.
Try to include clear headings, subheadings, meta descriptions, and alt tags for images. And don't forget about internal linking, which can help direct traffic to other relevant pages on your site. Following these tips can boost your website's visibility and attract more organic traffic.
Tactics for Improving Your Website's Ranking on Search Engines
Improving your website's ranking on search engines can seem daunting, but it's crucial for gaining visibility and attracting traffic. There are tactics you can implement to boost your site's ranking. First, ensure your website is optimized for search engines by including relevant keywords in your content, titles, and meta descriptions.
Additionally, focus on delivering high-quality, valuable content that will keep visitors engaged and informed. Consider link-building strategies and social media marketing to further increase your website's visibility. With a little effort and dedication, you can improve your website's ranking and bring in more traffic than ever before.
How to Use Social Media to Build Authority and Generate Quality Leads
If you want to establish authority in your industry and generate high-quality leads, then social media is a powerful tool. To start, focus on creating valuable content that resonates with your target audience. Share blog posts, infographics, and other engaging content that showcases your expertise and provides value. But don't stop there! Engage with your followers, encourage conversation, and don't be afraid to respond to any feedback you receive.
Building a rapport with your audience is key to generating trust and establishing yourself as an expert in your field. Lastly, don't forget to use hashtags and tap into relevant communities to expand your reach and attract new followers. By utilizing these tactics, you'll see your social media following grow, your authority solidify, and your leads multiply.
Analyzing and Tracking Metrics to Track Progress of your SEO Strategy
As you dive deeper into the world of SEO, it's important to know how to measure the effectiveness of your strategy. That's where analyzing and tracking metrics come in handy. By keeping a constant eye on your website's performance, you'll be able to see what's working and what isn't.
From monitoring your search engine rankings to tracking your website traffic, a wealth of information can be gained from the right metrics. Plus, the more you analyze, the easier it will be to adjust and pivot your strategy to ensure maximum success. It may seem overwhelming initially, but with practice and patience, tracking your SEO metrics will become second nature. There's nothing quite like seeing your hard work pay off in the form of improved search rankings and increased traffic.
SEO strategies are essential for ensuring that your MQLs convert into customers. Now that you know how to develop an effective SEO strategy, start by identifying your target audience and the keywords they use. Next, work on optimizing your website content and improving your website's ranking on search engines. Social media can also be a great way to build authority and generate quality leads.
Lastly, analysis and tracking metrics are key in order to keep track of the progress of your strategy. Not only will this help you refine your approach and identify areas for improvement, but it will also help ensure that you focus on what's working best for driving conversions. With a bit of dedication and effort, utilizing good SEO practices can really make a difference for achieving quality leads and increasing sales!
Listen to the latest episode of the Digital Profits Podcast on Creating an SEO Strategy that Grows Marketing Qualified Leads where the Profit Squad discuss how to avoid common pitfalls in failed SEO strategies, prioritize conversion funnels, measure the right KPIs, and create better content that fulfills user needs for long-term business success. Learn how to evaluate campaign returns, segment traffic by intent, and understand the conversion potential of traffic in the funnel to drive potential marketing qualified leads (MQLs). Join the Profit Squad and learn about setting goals, selecting metrics, and implementing SEO strategies that focus on user needs and add value to surpass competitors. Tune in now to start optimizing your SEO strategy for business growth!