Digital Profits Podcast – Episode 17: What Is PPC and How Does It Work?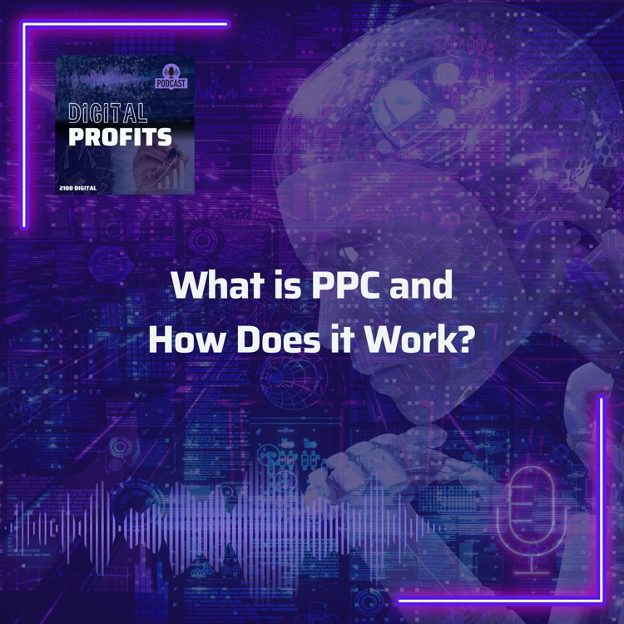 Are you an entrepreneur or business owner looking to increase your online exposure? Have you heard about pay-per-click (PPC) but don't know what it is or how it's used? Don't worry – we've got the answer! PPC is a powerful marketing tool, and it can make a huge impact on how successful your business is.
In this blog post, we'll dive deep into understanding exactly what PPC is, why it works so well for businesses, and some of the key ways you can get started using this important advertising medium. Now grab a hot cup of coffee and let's learn all there is to know about Pay Per Click!
Introducing PPC – What is it and why should you care about it
Have you heard of PPC? It stands for Pay-Per-Click advertising. Essentially, it's a way to drive traffic to your website rather than trying to attract it organically. You may be thinking, "Why even bother?" Well, let me tell you why you should care about PPC. First off, it's a powerful tool for driving targeted traffic to your website. With PPC, you have control over the targeting, so you can show your ads to people who are truly interested in your product or service.
Secondly, you only pay when someone clicks on your ad, hence the name Pay-Per-Click. This means that you're not wasting your budget on uninterested or unqualified viewers. So, if you're looking to increase traffic, conversions, and ultimately sales, give PPC a shot.
Understanding the Fundamentals of PPC – Terms & Definitions
Are you feeling lost in a sea of PPC jargon? Don't worry, we've got your back! Understanding the fundamentals of PPC can be a game-changer for your business. But first, we need to break down the terms and definitions that you need to know. It's like learning a new language, but we promise it's not as hard as it seems!
With our energetic and friendly approach, we'll guide you through the world of PPC and help you dominate your digital advertising game. So, why wait? We're here to guide you!
Crafting your PPC Campaign – Preparing the necessary elements
Crafting a successful PPC campaign may seem intimidating, but don't worry! We're here to help you prepare all the necessary elements to ensure a profitable outcome. Trust us, the effort put into setting up a well-organized and targeted campaign will pay off in the long run. From conducting keyword research to creating compelling ad copy, we'll guide you through each step of the process.
By preparing your campaign thoroughly, you'll be well on your way to driving valuable traffic to your website and achieving your business goals. So, let's get started and craft an effective PPC campaign that delivers results!
Launching your PPC Campaign – Choosing the right platform to advertise on
Launching a Pay-Per-Click (PPC) campaign can be a game-changer for your business! But, with so many advertising platforms available, it can be overwhelming to choose the right one. That's why I'm here to help! Let's work together to find the perfect platform to reach your target audience and achieve your marketing goals.
We'll take a look at factors like audience demographics, budget, and competition to determine the best fit for your business. Let's get started and watch your business soar to new heights with the right PPC campaign!
Measuring & Optimizing your Campaign – Tracking & Adjusting for better results
Are you tired of pouring resources into marketing campaigns with lackluster results? It's time to take control of your success with measuring and optimizing your campaigns. By tracking and adjusting as needed, you can achieve the results you want and maximize your ROI.
With the right tools and strategy, you can identify what's working and what's not, and make the necessary changes to improve your campaign performance. Don't settle for mediocre results any longer. Let's work together to create a winning campaign!
Tips for Boosting Your ROI with PPC Ads – Making the most of your budget
Want to get the most bang for your buck with your PPC ads? Look no further than these tips for boosting your ROI! First and foremost, make sure you're targeting the right keywords – those that are most relevant to your business and have high search volume.
Next, take advantage of ad scheduling to show your ads at the times of day when your target audience is most active. And don't forget to craft compelling ad copy that stands out from the competition. By following these tips, you'll be well on your way to making the most of your budget and seeing a significant boost in your ROI. Let's get started!
Common Pitfalls to Avoid with PPC Ads – Steering clear of mistakes that could cost you money
Are you tired of spending money on PPC ads that seem to yield little results? Don't worry, you're not alone. Many businesses fall into common pitfalls when it comes to their pay-per-click advertising strategy. But with a little bit of education and guidance, you can steer clear of these mistakes and see a significant improvement in your ROI.
From targeting the wrong audience to choosing the wrong keywords, there are plenty of pitfalls to avoid. But by taking the time to research and plan your PPC campaign, you'll be able to create ads that engage and convert your target audience. Don't let avoidable mistakes cost you money. Take control of your PPC strategy today!
PPC offers a powerful opportunity to businesses of all sizes to reach their customers and cultivate brand interest.
Learning the fundamentals and understanding the elements needed for a successful PPC campaign could be time consuming and expensive if you're doing it on your own, so having sales, marketing, and other experts that are familiar with the ins and outs of PPC campaigns will help get you get started quickly.
With proper preparation of audience segments, properly segmented keywords, perfect ad copy, interesting visuals, ideal campaign bid strategies, well planned budgeting processes and continuous tracking of results, soon enough you'll begin seeing ROI from your investment.
So, why not get started today? Take the plunge into paid advertising – leverage your insights correctly and begin increasing conversions. Remember: Plan accordingly, track regularly, and optimize often for success!
Ready to supercharge your marketing strategy? Don't miss the latest episode of The Digital Profit Podcast where we demystify PPC advertising and guide you through the process of creating effective, high-performance campaigns. Discover the power of PPC and learn how you can leverage it to outperform even your biggest competitors. There's a whole world of digital marketing potential out there, just waiting for you to tap into. Tune in now and start your journey to explosive business growth today.