Digital Profits Podcast – Episode 14: Impacts of Generative AI on Search Engines & SEM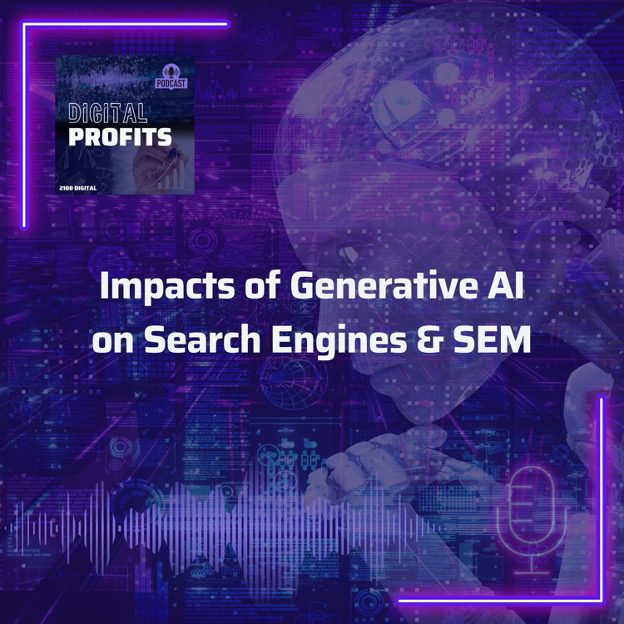 We've been talking about how search engine optimization is a key part of success, but have you thought about the role Artificial Intelligence (AI) plays in powering the future of search engines?
AI isn't just pie-in-the-sky thinking – it's here and now! From personalized results to advanced algorithms, AI is already being used by major players like Google, Bing, and Yahoo to deliver accurate results every day. We'll explore how today's search engine giants are using AI to shape tomorrow's web searches – so come along for the ride as we uncover every detail from data collection methods to predictive analytics!
Introducing AI and its role in shaping search engine algorithms
Are you tired of searching the web and getting irrelevant results? Well, buckle up, because Artificial Intelligence (AI) is here to change the game. AI is revolutionizing the way search engines operate by allowing them to understand the context and intent behind a search query. By analyzing user behavior and preferences, AI can tailor search results to fit the user's needs and interests.
As a result, we get faster, more accurate and personalized results. In this era of information overload, AI is a breath of fresh air, helping us find the information we need, when we need it. So, don't get left behind, embrace the power of AI and enjoy the benefits of a smarter search engine algorithm.
How are AI-driven algorithms improving the user experience and enhancing search results accuracy
Imagine being able to search for whatever you need online and finding exactly what you were looking for within seconds. Thanks to AI-driven algorithms, this is now a reality. These complex programs help to enhance the accuracy of search results, making it easier than ever to find what you're looking for. Not only that, but AI-driven algorithms are continuously improving the user experience.
From personalizing recommendations to streamlining online shopping, these algorithms are making our online lives more convenient and efficient. So the next time you search for something online, take a moment to thank the intelligent algorithms working behind the scenes to make your experience more enjoyable than ever before.
Benefits of AI for marketers, including better targeting capabilities and real-time insights
Picture this: You're a marketer sitting at your desk, trying to figure out the best way to reach your target audience. With the help of AI, you're able to effortlessly tailor your messaging to specific groups, ensuring that your advertising efforts are hitting the mark every time. And that's not all. AI also provides you with real-time insights into how your campaigns are performing, allowing you to adjust your strategy on the fly and get even better results.
With these benefits, it's easy to see why AI is quickly becoming a must-have tool for marketers looking to stay ahead of the competition. So, why not join the AI revolution and see what it can do for your business?
Ways to integrate AI in your search strategy, such as leveraging voice search
Ready to take your search strategy to the next level? Look no further than integrating AI, specifically voice search. By leveraging this technology, you'll be able to connect with your audience in more ways than ever before. Not only is voice search more convenient for users, but it also allows for more conversational and natural language.
With AI powering your search strategy, you'll be able to gain deeper insights into user behavior and tailor your approach accordingly. So, why wait? Embrace the power of AI and let your search strategy soar to new heights.
The importance of taking a customer-centric approach when using AI in search engines
Have you ever experienced the frustration of endlessly scrolling through irrelevant search results? As technology evolves, search engines are increasingly integrating AI to provide more accurate and personalized results. But implementing AI is not enough. To truly enhance the user experience, taking a customer-centric approach is key.
By putting the customer at the center of AI development, we ensure that search engines are tailored to specific needs and preferences. This not only improves the accuracy of search results but also builds trust with the customer, keeping them coming back for more. Let's embrace a customer-centric approach to AI in search engines and transform the way we search online.
Best practices for using AI-powered tools and how to incorporate them into your existing strategy
Artificial intelligence (AI) is transforming the way businesses operate, and it's becoming more and more crucial to incorporate these innovations into your existing strategy. In order to achieve optimal results, it's important to follow best practices for using AI-powered tools.
First, you should define your problem and identify the data you need to collect. Then, you can select the appropriate AI tool that best suits your needs. Once you have chosen the tool, it's essential to train it with your specific data to produce accurate results.
Finally, continuously monitor and adjust your AI to obtain the best possible outcome. With these best practices, you can effectively leverage AI technology to propel your business forward and gain a competitive edge. Start incorporating these tips into your strategy now and achieve success faster than ever before!
AI's role in revolutionizing search engine algorithms is already taking effect, and forward-thinking marketers should continue to invest in the latest AI-driven tools to keep up with the ever-evolving changes.
As more search engines adopt AI-powered technologies, it is essential to stay ahead of the curve by regularly monitoring trends and understanding how customers behave. Doing so provides a key competitive advantage in the digital landscape and enables you to shape your strategy around customer needs while leveraging smarter approaches powered by AI for marketing success.
Incorporating these AI techniques into account management processes and optimizing user experiences will help marketers build a better understanding of their target audiences, allowing them to craft targeted campaigns that get maximum reach and engagement. By properly utilizing AI in search engine algorithms, marketers are sure to bring valuable insight and ROI quickly—and stay ahead of the competition.
Ready to revolutionize your business growth? Join the Profit Squad in EP 14: Impacts of Generative AI on Search Engines & SEM of the Digital Profits Podcast. Don't miss out on the insights that will shape the future of search engine results pages. Anticipate user needs, refine data analysis, and gain the edge in digital marketing. Tune in now!