Digital Profits Podcast – Episode 13: Website Migrations for Optimal SEO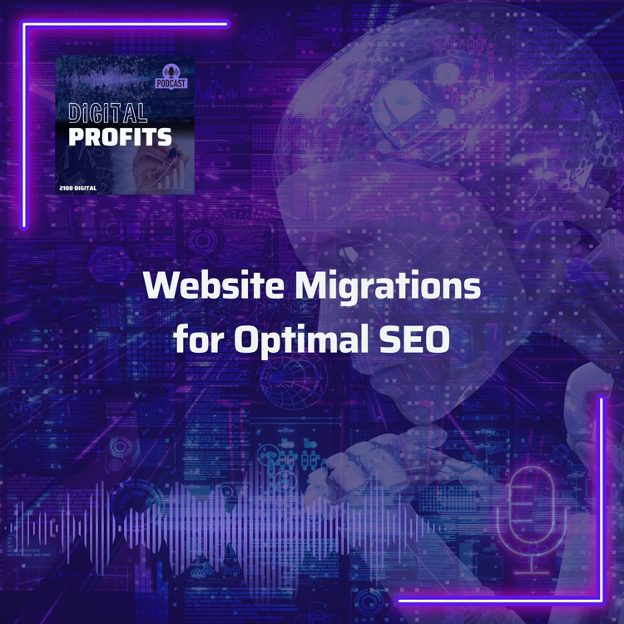 Having a website migration isn't as simple as clicking from one page to the next. Without consistency and an SEO-sensitive approach, your website transitions will be anything but smooth sailing. The good news is that you don't have to tackle this task alone!
As a digital marketer, you can use best practices for website migrations with confidence – all while optimizing the performance of your SEO rankings. Let's dive into the fundamentals of how to make the most out of your website migrations for optimal SEO results.
Why You Should Care About Seamless Website Transitions
Did you know that seamless website transitions can significantly impact the success of your website? Not only do they provide a better user experience by avoiding any jarring interruptions, but they also increase the likelihood of users staying on your site for longer periods of time.
Additionally, seamless transitions can improve your search engine rankings, making it easier for potential customers to find you online. We highly recommend investing in seamless website transitions to take your website to the next level and improve your overall online presence.
What is SEO and How Does it Impact Your Website Migration
SEO, or search engine optimization, is a complex science that can make or break your website's success. When transferring your website to a new platform or redesigning it, SEO should be one of your top priorities. It impacts the visibility of your site on search engine result pages. If your website is not optimized for search engines, it may get lost in the vastness of the internet, making it difficult for potential customers to find you. That's where a good SEO strategy comes into play.
By including targeted keywords, optimizing page titles, and ensuring your website architecture is user-friendly, you can improve your website's ranking on search engine result pages. This can increase your website traffic and ultimately lead to more conversions. So, when migrating or redesigning your website, take SEO into account, and you will reap the rewards.
What to Do Before You Begin Your Website Migration
Before you make any moves when it comes to website migration, it's important to do your research and preparations. You don't want to end up with a mess of broken links and lost data. First, make sure you have a backup of your current website – this is a crucial precaution in case anything goes wrong during the migration process.
Next, review your website's current structure, including any internal links or URLs that may need to be updated or redirected. Take the opportunity to weed out any outdated or unwanted content. Finally, consider choosing a reliable hosting provider and ensure all necessary website tools and software are up to date. By taking these steps, you can ensure a smoother transition and a successful website migration.
Migrating Your Domain Name The Right Way
So, you're thinking about migrating your domain name? That's great! Making sure you do it properly will save you a lot of headaches down the road. The key is to plan ahead, execute with intention, and test everything thoroughly. Don't be afraid to reach out for help if you need it – there are plenty of experts out there who are happy to guide you through the process.
Remember, your domain name is like your online home, so it's important to treat it with care. By following the right steps and asking for assistance when needed, you'll be able to migrate smoothly and keep your digital presence up and running without any hiccups.
Understanding the Importance of Proper Redirects
As a website owner, you already understand the importance of having great content and user-friendly features on your site. But did you know that proper redirects can make or break your user experience? When a visitor clicks on a link or types in a URL, they expect to be taken to the correct page quickly and seamlessly. When redirects are implemented incorrectly, it can result in frustrating errors or dead ends for your users.
Additionally, search engines like Google take redirects into account when determining the quality of your site, so it's essential to make sure that they are done correctly. By taking the time to understand and implement proper redirects, you can improve your website's usability and reputation, leading to better traffic and engagement overall.
Optimizing URLs for Maximum SEO Effectiveness
You want your website to be easily discoverable by search engines. One way to achieve this is by optimizing your URLs. By using clear and concise URLs that reflect the content of your pages, you increase your chances of ranking higher in search engine results pages.
To make sure your URLs are as effective as possible, keep them short, include relevant keywords, and avoid using any special characters or symbols. By following these guidelines, you can improve the overall SEO effectiveness of your website and help your audience find the content they're looking for more easily. Trust us, your website – and your visitors – will thank you for it.
To summarize this post, website transitions can be a daunting task if you don't understand the intricacies of SEO optimization. When preparing for your website changes, remember that it is important to plan ahead and lay out what steps you need to do. Doing research around the best practices of domain name migrating and proper redirects will bring you far. Furthermore, optimizing your URLs with best practices in mind will ensure that your hard-earned SEO rankings are preserved. Are you ready to master the art of website migrations for SEO success? Tune in to the latest episode of the Digital Profits Podcast and learn from the Profit Squad. Discover more strategies to navigate migrations seamlessly, preserve your SEO efforts, and keep your online presence thriving.