Digital Profits Podcast – Episode 16: What Is SEO and How Does It Work?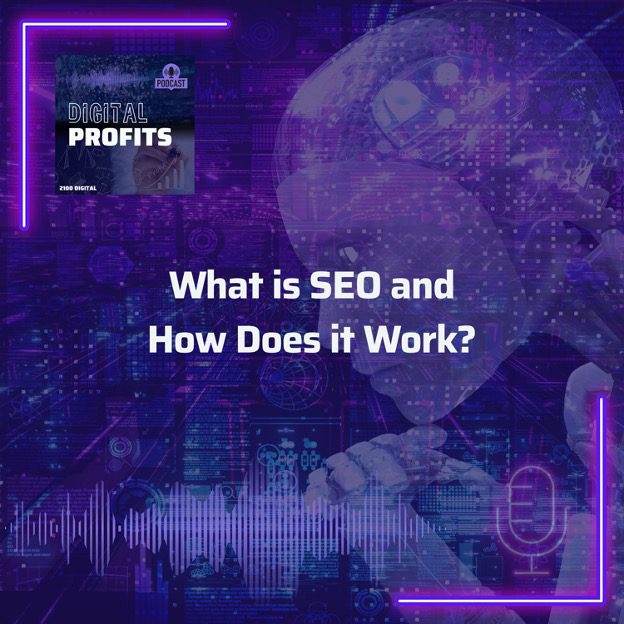 If you're keen on stepping up your business's digital marketing game, it's time to get cozy with the basics of Search Engine Optimization (SEO). It's a big deal when it comes to making sure folks can find and get to know your brand online. SEO is a game-changer!
With a few simple tactics, you can make sure that your website appears near the top when someone searches for terms related to what it is that your company does. In this blog post, we'll explore exactly what SEO is and how it works so that even novice digital marketers can quickly get up-to-speed on mastering this essential element in their online strategy.
Introducing SEO – An Overview of What It Is
If you're looking to boost your website's visibility on search engines, then you need to know all about SEO. SEO stands for Search Engine Optimization, and it's the process of optimizing your website to rank higher on search engine results pages (SERPs). It's like giving your website a makeover to make it an attractive candidate for search engines to feature at the top.
With SEO, you're not only obtaining a better visibility online but also driving more traffic to your website. And, as we all know, more traffic leads to more potential for increased business revenue. So, if you want to succeed in today's digitally-focused world, it's essential to master the art of SEO.
Understanding the Basics of SEO and How Search Engines Work
Are you tired of your website being buried on the second, third, or even further pages of search results? It's time to take control of your online presence and understand the basics of SEO. By optimizing your website with keywords, meta descriptions, and quality content, you can improve your chances of ranking higher on search engines like Google, Yahoo!, and Bing.
But how exactly do these search engines work? Through complex algorithms that take into account a multitude of factors, such as relevance, authority, and user experience, search engines determine the most relevant results for a given query. It's all about understanding what search engines are looking for and adapting your website accordingly. So, let's get started on your journey to a more visible and successful online presence!
The Benefits of Optimizing Your Website for SEO
In today's fast-paced digital landscape, having a website isn't enough—websites must be optimized to reach the right audience effectively. The benefits of optimizing your website for SEO are numerous; it can generate more leads, increase revenue, and improve brand recognition.
By ensuring that your website ranks higher in search engine results pages, you can make sure that people find your content faster and easier, ultimately driving more traffic to your website. So why not take advantage of this opportunity to enhance your online presence? With a little know-how and a lot of hard work, you can reap the benefits of SEO optimization, and watch your website transform into a powerful tool for your business.
Keyword Research – Uncovering the Right Phrases to Target
Are you tired of not seeing results from your website's traffic? If so, it might be time to take a closer look at your keyword research. When it comes to attracting the right audience, targeting the right phrases is key. By uncovering the most valuable keywords to focus on, you can bring in more relevant traffic and ultimately increase conversions. It's all about knowing your audience and speaking their language.
So, let's dive in and discover the power of keyword research together! With a bit of energy and some strategic planning, you'll be on your way to reaching the right audience and achieving your website goals.
On-Page Optimization – Crafting Quality Content That Ranks
Are you tired of creating content that never seems to get the traffic it deserves? It's time to learn the art of on-page optimization and craft quality content that ranks! By optimizing your website's web pages, you can increase your search engine visibility and attract a larger audience. But this isn't just about stuffing keywords into your content. High-quality, informative, and engaging content is the key to success in today's digital landscape.
By crafting content that grabs the attention of your target audience, you can improve your rankings, drive traffic to your website, and boost your overall online presence. So why settle for mediocre content when you can achieve greatness with on-page optimization? Let's rank higher and attract more visitors together!
Off-Page Optimization – Generating Quality Links to Boost Rankings
Ready to kick your website up a notch in the rankings? It's time to talk about off-page optimization, and more specifically, the power of good ol' quality links. When you build a solid network of links pointing back to your site, search engines sit up and take notice. They see your site as a top-notch source of info and give your ranking a boost. It's as simple as that.
But don't be fooled by quantity over quality; it's essential to focus on generating high-quality links from reputable sources. With a little dedication and the right strategy, your website has the potential to climb up the search engine ranks and attract even more traffic and engagement. So what are you waiting for? Get started on your off-page optimization journey today!
Measuring and Tracking Your Progress – Understanding Your Results
Congratulations! You've taken the first step towards success by recognizing the importance of measuring and tracking your progress. However, it's not enough to simply gather data. You need to understand what your results mean in order to make informed decisions about your next steps.
Don't panic if you see something unexpected, every data point is an opportunity for growth. Instead of getting discouraged, embrace the challenges and use the information to pivot your strategy. Trust us, it's worth the effort to understand your results because it will help you achieve your goals faster and with more confidence. Keep up the great work!
SEO is an important tool for businesses that wish to reach their desired audience online. 
There are numerous benefits that come with employing SEO, from expanding your potential customer base to improving website usability and driving more qualified leads. In order to get the most out of your SEO efforts, it's essential to understand all aspects from keyword research to link building. Not only can this help you find success in search engine rankings, but it will also give you key insights into the behavior and preferences of your target audience.
Don't miss out on these amazing opportunities–Once you fully understand how SEO works, there's no limit to what you can achieve! Start optimizing your website and track your progress today!
Demystify Search Engine Optimization (SEO) when you tune in to the Digital Profit Podcast's Ep 16: What is SEO and How Does it Work? with the Profit Squad. With over 90% of online journeys starting with a search, understanding SEO is key.
Learn how to drive organic traffic, and why being on the first page of search results matters. Discover search intent types through a clever library metaphor and get insights on Technical, On-page, and Off-page SEO, and the vital role of keyword research. Equip your business with the tools for sustained online growth!