Digital Profits Podcast – Episode 7: What Makes Top-Tier Digital Marketers Elite?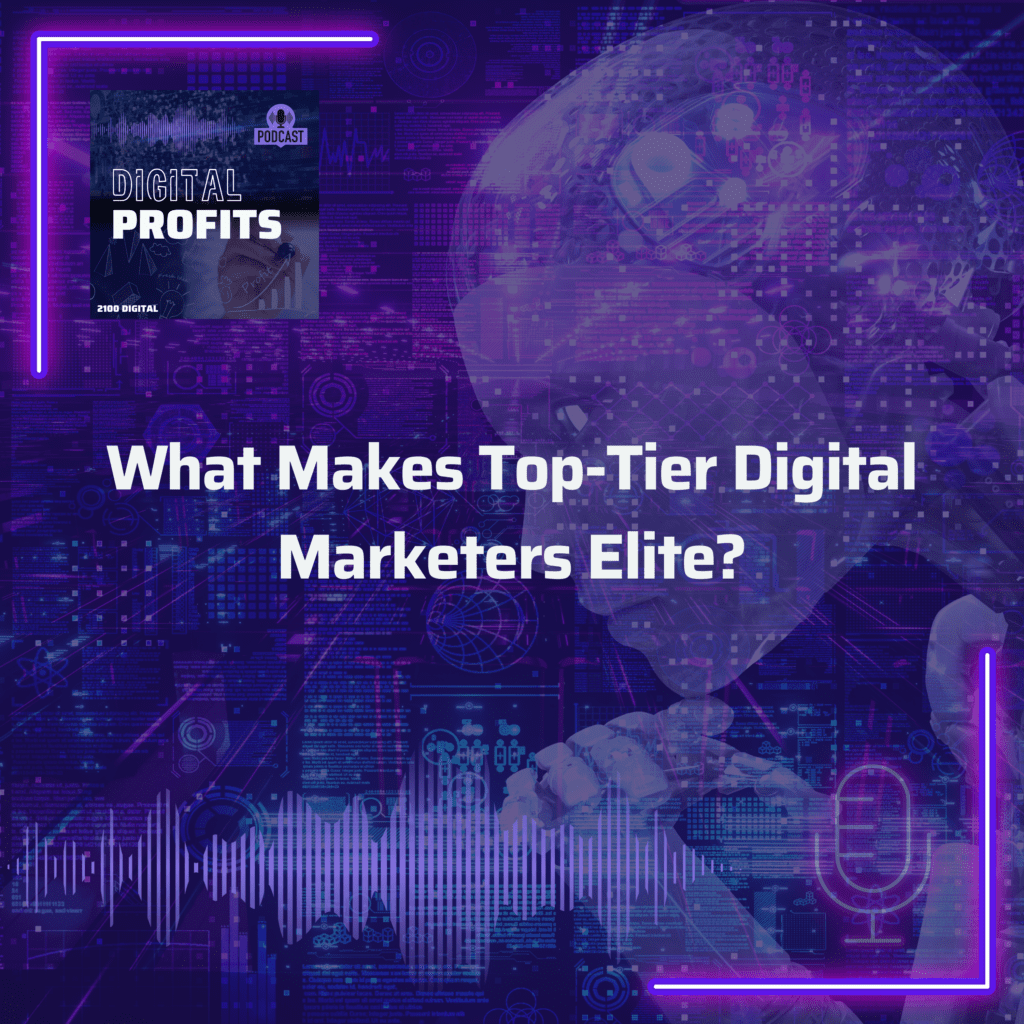 Are you a digital marketer looking for creative ways to build an effective team? Are you trying to keep up with the ever-changing landscape of consumer demand and needs? Then it's time to learn how connecting people and products can help create successful marketing initiatives. With changing trends, customer demands, and technology, it's more important than ever that marketers have the right tools in their toolkit.
Understanding how your business connects people and products is one of those tools! In this post, we'll discuss why connection is so vital when developing a marketing plan, which strategies will give you the best results, and some tips on making strategic connections throughout every step of your business strategy.
Understanding the Basics of Digital Marketing
So, you're interested in digital marketing? That's great! In today's world, having a basic understanding of digital marketing is crucial, whether you're a small business owner or a social media influencer. To put it simply, digital marketing encompasses all the marketing efforts that are done through digital platforms like social media, email, search engines, and more.
Understanding the basics of digital marketing can help you reach a wider audience, increase your brand awareness, and ultimately, drive more sales. Some of the key components of digital marketing include search engine optimization (SEO), email marketing, social media marketing, and pay-per-click advertising (PPC). By understanding these basic principles, you'll be on your way to creating a more effective digital marketing strategy for your business.
Crafting a Comprehensive Strategy to Reach Your Goals
Crafting a comprehensive strategy is essential for anyone looking to achieve their goals. It's important to start by identifying your objectives and then breaking them down into smaller, more manageable tasks. You need to create realistic timelines and deadlines and ensure that you have the resources you need to succeed.
By setting clear goals and objectives, you can focus your efforts on what truly matters and avoid getting bogged down in distractions. When crafting your strategy, it's also important to build in flexibility and be prepared to adjust your plan as needed. Remember, the road to success is rarely straight or easy, but with a well-crafted plan in place, you can overcome obstacles and achieve your dreams.
Leveraging Technology to Support Your Efforts
If you're looking to up your game and truly take your efforts to the next level, you need to start leveraging technology to your advantage. Whether you're trying to streamline your workload or gain a competitive edge, technology can provide you with the tools you need to succeed.
With the right software, you can automate processes, analyze data more efficiently, and even connect with customers on a deeper level. But don't let the potential complexity of technology intimidate you. With a bit of know-how and some guidance, you can master the tools that will help you achieve your goals like a pro.
The Art of Storytelling for Impactful Messages
As someone who understands the importance of crafting impactful messages, you know that storytelling is essential to making a lasting impact. A great story engages and captivates its audience, leaving a lasting impression that lingers long after it's been told. No matter what message you're trying to convey, weaving it into a narrative that your audience can connect with is key to getting it to stick. A well-crafted story can transcend cultural boundaries and language barriers, making it a powerful tool for reaching people from all walks of life. So, the next time you're trying to make an impact, consider the power of storytelling to get your message across.
Finding the Right Content for Your Customers
When it comes to finding the right content for your customers, you want to make sure that you're delivering exactly what they want. But with so much content out there, it can be overwhelming to decide what will resonate with your audience. That's where taking the time to truly understand your customers comes in. What are their pain points? What motivates them? What topics are they interested in?
You can craft content that speaks directly to their needs and desires by answering these questions. Additionally, consider testing out different types of content, from blog posts to videos to infographics, to see what gets the most engagement. Remember, the key is to always put your audience first and deliver the valuable content they're looking for.
Building the Right Team to Achieve Success in Digital Marketing
When it comes to digital marketing, building the right team is crucial in achieving success. You need to gather the right people with diverse skills and expertise to create a well-rounded team. But don't just look for people who fit the job description. Look for those who are passionate, eager to learn, and committed to delivering excellent results.
Remember that digital marketing is dynamic and constantly changing, so having a team that can adapt and innovate is essential. Invest in your team by providing them with the necessary resources, training, and tools to help them grow and excel. With the right team in place, you can leverage each other's strengths and maximize your potential for success in digital marketing.
Digital marketing can be a daunting task, but with the right skills and know-how, it can be used as an incredible tool to drive more business. It's important to remember that digital marketing requires a balanced mix of knowledge, strategy, and technology to make it work effectively. While it is critical to understand the basics of digital marketing, crafting a well-thought-out strategy goes a long way in achieving desired goals. Leveraging the right technologies and exploring storytelling techniques helps refine messages for maximum impact.
Additionally, it is equally important to find the right content that resonates with your customers and build the right team: an experienced strategist paired with savvy creatives ensures success in any digital marketing endeavor. Doing all these tasks correctly will set you up for successful campaigns and give you an edge over competitors in this ever-changing landscape!
Discover the secrets to building a successful marketing team and becoming a thriving digital marketer when you listen to the latest episode of the Digital Profits Podcast on Connecting People and Products. Gain insights that will elevate your digital marketing career and help you build a high-performing marketing team as the Profit Squad explore the core values, specialized expertise, and evolving skills necessary for success in today's competitive landscape. Tune in now and unlock the secrets to success in the ever-evolving world of digital marketing!