Digital Profits Podcast – Episode 6: Hitting CPA Goals vs. Hitting MQL Goals in PPC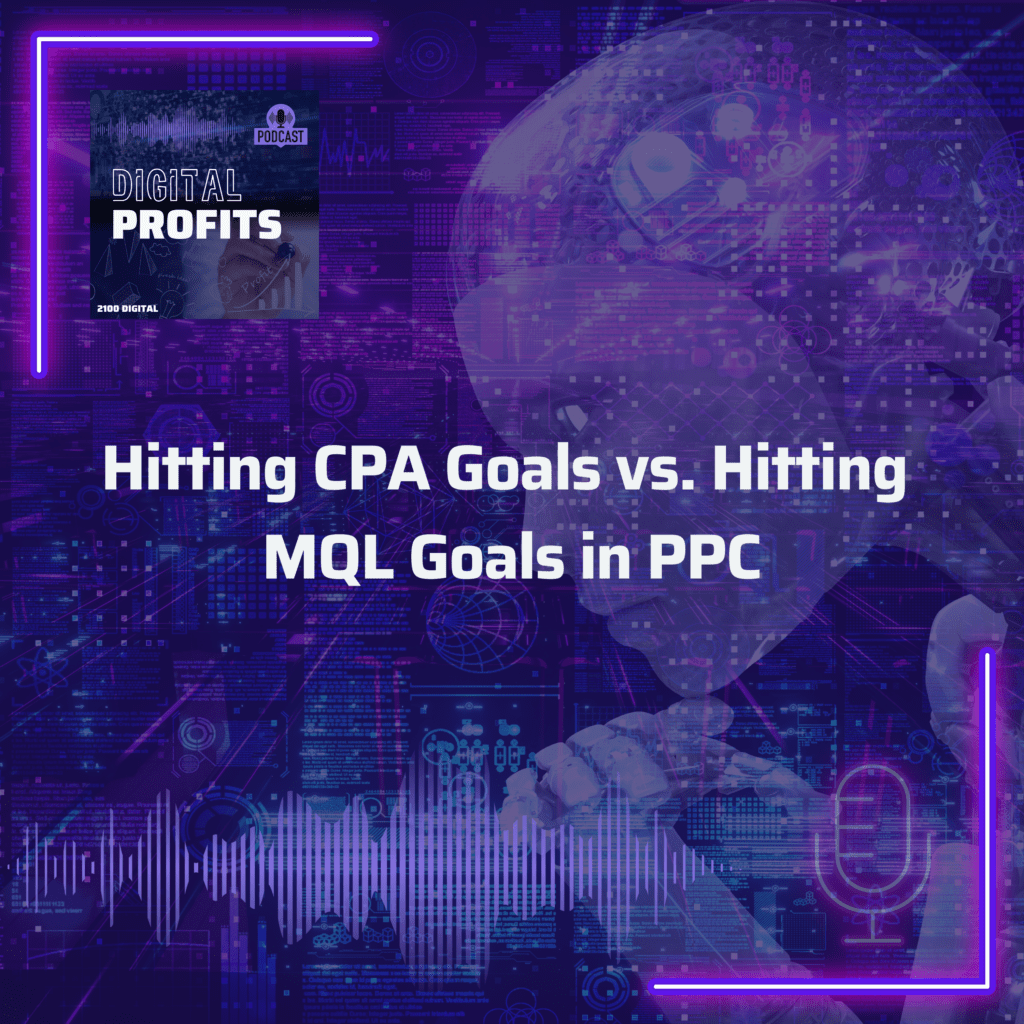 Pay-per-click (PPC) advertising has become a critical aspect of generating leads for businesses in various niches. While achieving a lower cost per acquisition (CPA) is essential for businesses operating on a limited budget, it is equally important to focus on generating marketing-qualified leads (MQLs) in your PPC advertising campaign, rather than just conversions alone.
However, focusing exclusively on efficiency and CPA goals may not always be the best approach. Marketers who solely optimize for CPA goals are at risk of missing out on significant revenue opportunities. In other words, optimizing solely for CPA may lead to a false sense of security, as potential volumes of customers could still be un-acquired.
To avoid this, it is essential to incorporate data connectors to your marketing strategy, such as HubSpot or Salesforce, which are crucial for understanding the down-funnel, improving lead qualification, and creating a more effective PPC strategy. Through data connectors, marketers can better assess the quality of their leads, adjust their strategy to optimize for MQLs, and increase their ROI (return on investment) in the long run.
Optimizing solely for CPA goals may also lead to sacrificing significant growth opportunities in the future by choking off the funnel. This happens when marketers limit testing and optimize for only one goal. Consequently, this approach does not allow for experimentation or finding new potential channels, potentially limiting a business's growth potential.
To avoid sacrificing future growth potential, it is important to balance efficiency and growth by experimenting with various approaches to optimize for MQLs effectively. This balance is a critical component in creating an effective PPC advertising campaign that generates both qualified leads and long-term growth. By focusing on MQLs, a company ensures that it is attracting high-quality leads that are more likely to convert, which in turn leads to long-term growth potential.
The conversion path that is defined and optimized also plays a vital role in a successful PPC campaign. To achieve higher quality leads, it is essential to understand different types of conversions such as calls, form submissions, chats, newsletter signups, e-commerce, and demos and optimize campaigns for the right objectives. This approach helps marketers to optimize for conversions that are further down the funnel and helps to engage with highly qualified leads.
In conclusion, striking a balance between efficiency and growth while optimizing for MQLs should be the focus of PPC advertising campaigns. The following are some guidelines to ensure that businesses are on the right track to look towards MQL optimization.
Investing in better Data Connectors
To optimize your PPC advertising campaign for MQLs, you need to incorporate data connectors such as HubSpot or Salesforce into your marketing strategy. These platforms enable marketers to better assess the quality of their leads and adjust their strategy to optimize for MQLs. By using these tools, marketers can keep track of user engagement, which channels are bringing the highest quality leads, and ultimately optimize for long-term success.
Balancing Efficiency and Growth in Optimization
To avoid sacrificing the future growth potential of your business, it is essential to strike a balance between efficiency and growth. While optimizing exclusively for CPA may lead to better cost-effectiveness in the short term, it can also have negative long-term impacts.
To optimize for long-term growth while still maintaining cost-effectiveness, businesses need to experiment with various approaches to generate MQLs. One good way is to run A/B testing, which involves testing multiple versions of different elements of your PPC ads to determine what works best and ultimately selecting the optimal version. Additionally, it is important to keep track of the results of various PPC campaigns to help understand what works and what doesn't.
Optimizing for Appropriate Conversion Goals and Objectives
It's essential to optimize your PPC campaign for appropriate conversion goals and objectives. While calls, form submissions, and chats are all important, the right conversion objective needs to be selected to ensure higher-quality leads. For instance, if an organization is at its maximum capacity and has no more room for clients, they may want to focus on chat conversions as they take longer to close than phone calls.
Tracking Conversion Paths
Tracking all three conversion paths (online, offline, and call tracking) is essential. This information helps businesses understand their customer journeys and know what paths to conversion users take. It also helps avoid cutting off campaigns based on high CPA data alone, which may be misleading. By understanding the customer journey to make more informed decisions, businesses can ensure they are making data-driven decisions to optimize their campaigns better.
Closing the Loop Between Marketing and Business Outcomes
Closing the loop between marketing and business outcomes is the ultimate goal of any PPC campaign. This requires the integration of marketing and sales data to connect marketing metrics with business operational numbers in real-time. This helps to create more responsive marketing campaigns that can drive key business outcomes, ultimately achieving the marketing goals and KPIs. By aligning incentives for all stakeholders, businesses can ensure they are growing in the same direction, rather than focusing solely on metrics like cost
In our most recent episode of the Digital Profits Podcast, EP 6: Maximizing ROI in PPC Campaigns, we further explore the concept of generating MQLs in PPC advertising campaigns. We cover various topics, such as the importance of data connectors, balancing efficiency and growth, optimizing for appropriate conversion goals and objectives, tracking conversion paths, and more. Tune in to learn more and take your business to the next level of growth.