Digital Profits Podcast – Episode 11: Treatment Center Search Engine Marketing Playbook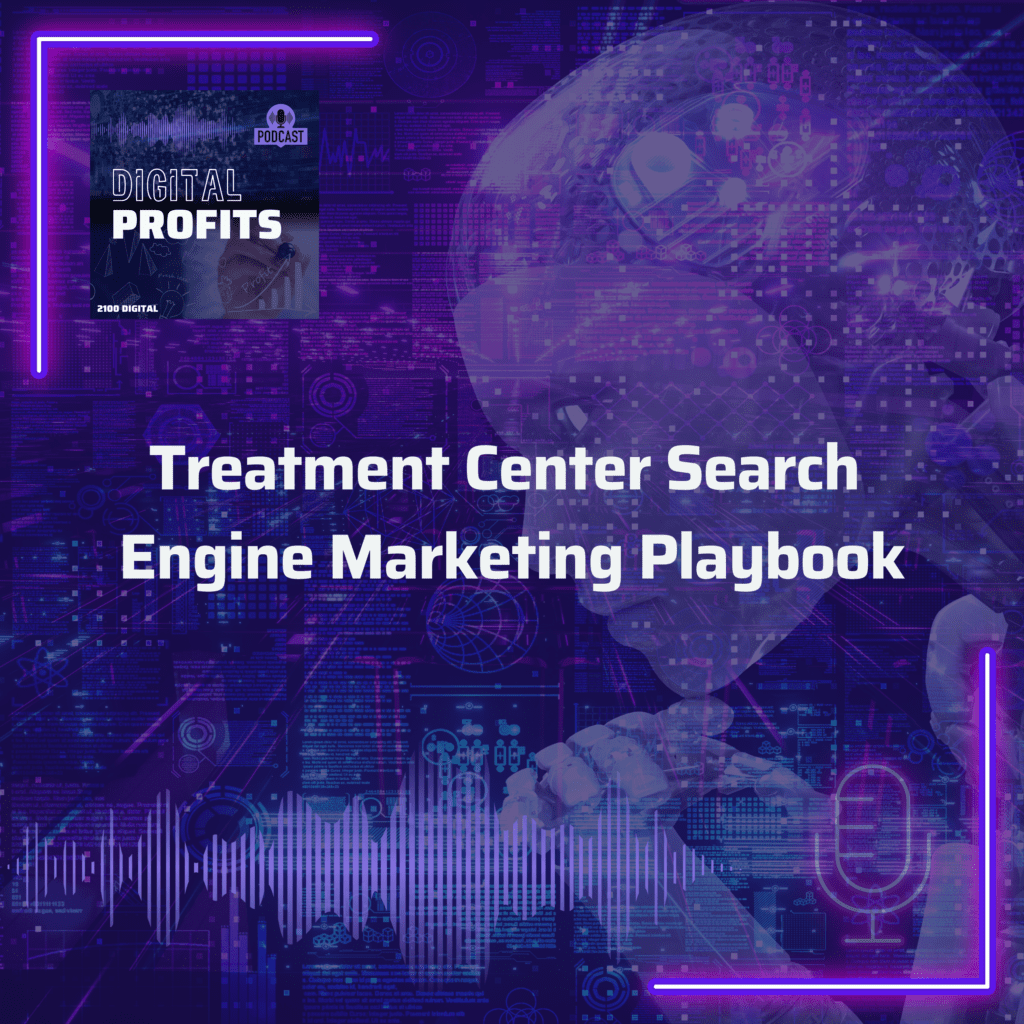 Welcome, digital marketers! With the steady increase of competition in almost every industry, it's becoming more and more important to make data-driven decisions when constructing your marketing techniques. In the landscape of healthcare and treatment centers specifically, the need for a comprehensive approach that integrates both SEO and PPC is essential–this entails understanding all regulatory compliance requirements as well as leveraging tactics such as hypertargeting to acquire optimal results. Learn about effective methods to utilize these two components today!
How to Use Data-driven Decisions in Your Digital Marketing Strategy
When it comes to digital marketing, there's no doubt that the abundance of data can be overwhelming. But with the right tools and approach, you can turn that sea of information into targeted and effective marketing strategies. Utilizing data-driven decisions means taking the guesswork out of your marketing plan and relying on insights gathered from your audience's behavior. This is where you can create targeted campaigns that cater to their specific needs and desires.
By adopting this approach, you will be able to make every marketing dollar count, creating a measurable return on investment that you can use to evaluate and refine your approach. Ultimately, using data-driven insights in your digital marketing strategy will help you stand out from the crowd and deliver the right message to the right people at the right time.
Making the Most of Hypertargeting
Hypertargeting can take your marketing to a whole new level. With the ability to reach specific audience segments with tailored messages, you can create a laser-focused campaign that speaks directly to your customers' needs and desires. But how can you make the most of this powerful tool?
Start by diving deep into your audience data to identify the right targets. Then, craft personalized messaging that speaks to their pain points and interests. Finally, use dynamic ad creative to deliver a personalized experience that truly resonates. By following these steps, you'll be well on your way to hypertargeting success!
Navigating Regulatory Challenges with SEO & PPC
This can be a daunting task. However, you don't need to go at it alone. Let us help guide you through the nuances of regulations to ensure that your SEO and PPC strategies remain compliant. It's important to stay up-to-date on the latest regulations and compliance requirements, but don't let it discourage you from utilizing these powerful marketing strategies.
With careful planning and execution, you can successfully navigate the regulatory landscape and see positive results in your business. Let's work together to ensure your SEO and PPC campaigns are both effective and compliant.
The Power of Automation for Hypertargeting & Tracking Results
As you delve into the world of digital marketing, you quickly realize just how important it is to target your audience with laser precision. That's where automation comes in. By embracing the power of automation, you can hypertarget your ideal customer and track your results with ease. Say goodbye to the days of manually sifting through data and hello to a more efficient and effective marketing strategy.
With automation, you can focus on crafting the perfect message for your audience while the technology handles the rest. Plus, tracking your results has never been easier. You'll receive real-time data that allows you to fine-tune your strategy and adjust your targets to ensure you're hitting the mark every time. So, why wait? Start harnessing the power of automation today and watch your marketing efforts reach new heights.
Tools & Tactics for Improving Digital Performance
When it comes to improving your digital performance, having the right tools and tactics in your arsenal can make all the difference. We're here to guide you through some of our favorite options. From using analytics to track website traffic and identify areas for improvement, to optimizing your content for search engines and social media algorithms, every step you take can have a big impact on your success.
Don't forget to prioritize user experience, test everything rigorously, and stay up-to-date on the latest developments in the world of digital marketing. With a little effort and the right tools, you'll be well on your way to digital domination.
In summary, data-driven decisions, smart hypertargeting, and effective automation are all great ways to leverage the power of digital marketing. While SEO and PPC can be instrumental in helping you navigate regulatory challenges, it's also important to remember that integrating offline approaches with online strategies can help maximize conversions. To make sure you're getting the most out of your digital strategy, tune in to the latest episode of the Digital Profits Podcast. With the right plan and creativity, you can create an impactful digital marketing strategy.