Digital Profits Podcast – Episode 8: AI in Marketing: The Marketer of Tomorrow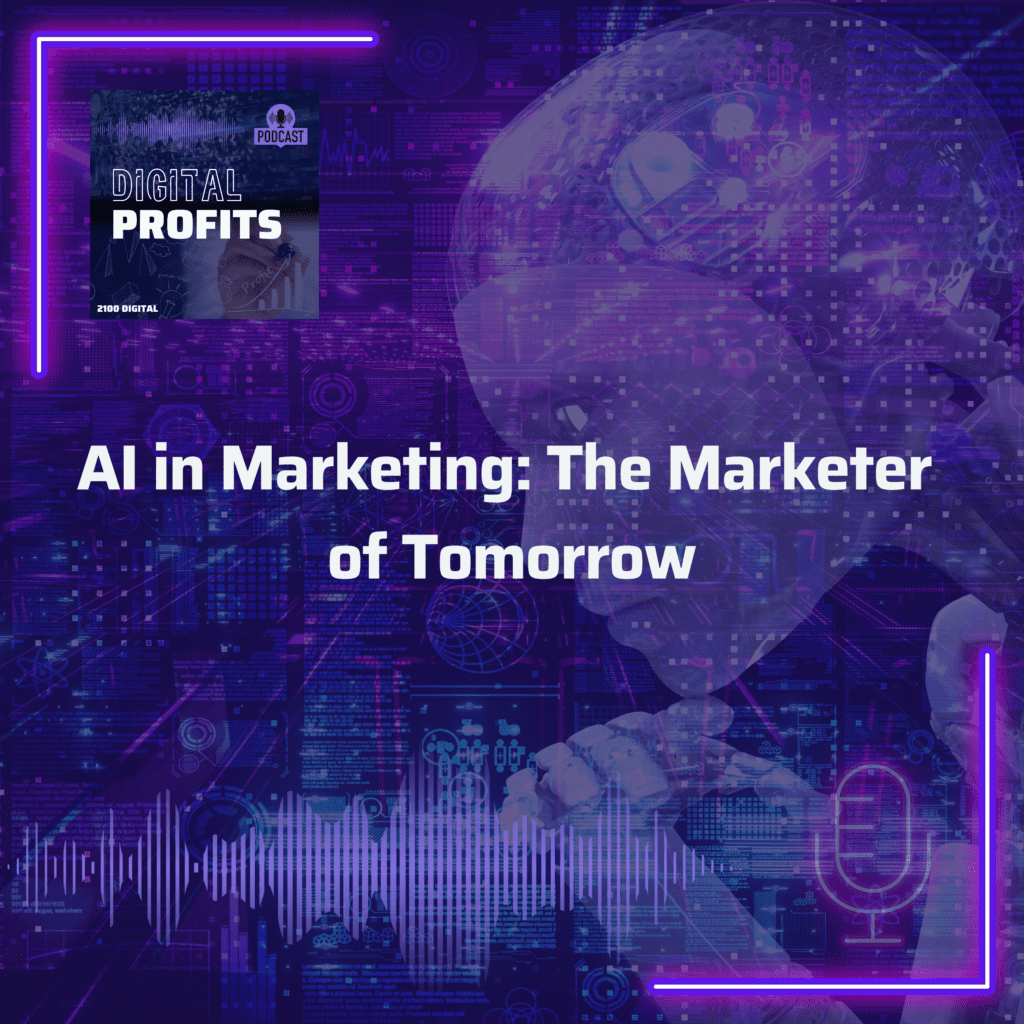 Are you a digital marketer interested in transforming your business? Artificial intelligence (AI) today is leading the charge to help businesses achieve accelerated results. But what exactly does that mean for you?
Fusing AI into digital marketing can open up powerful opportunities, from optimizing search engine results to personalized recommendations. This post will take you through the basics of putting AI technology into action so you can use it as an incredible resource when talking about growing your business!
Understanding the Basics of AI-driven Digital Marketing
If you're looking to up your marketing game, AI-driven digital marketing might be just the solution you need. With these advanced tools, you can automate your campaigns, analyze customer behavior, and create personalized experiences for each individual.
At its heart, AI is all about using algorithms to analyze data and make predictions. By taking advantage of this powerful technology, you can optimize your marketing strategy and get ahead of the competition. Once you start using AI in your marketing efforts, you won't look back.
Leveraging AI-driven Search Results to Boost Your Rankings and Visibility
As a website owner, you likely understand the importance of having high rankings and visibility in search engine results. To achieve this, you may have already implemented several SEO strategies. However, one strategy that many websites are now leveraging is the use of AI-driven search results. By utilizing AI-based algorithms, search engines can now provide more accurate and relevant results for users.
As a result, optimizing your content for AI-driven searches can potentially boost your rankings and improve your visibility. Some ways to do this include focusing on topics that are commonly searched for using voice assistants, using natural language in your content, and incorporating structured data. Keep in mind that while AI is still evolving, it's important to stay ahead of the game and implement strategies that align with the technology.
Utilizing Advanced Language Models to Deliver Targeted and Personalized Content
As a content creator, you know that not all content is created equal. In fact, with such a vast amount of information available online, it can be overwhelming for your audience to find exactly what they're looking for. That's where advanced language models come in. By utilizing these cutting-edge technologies, you can deliver targeted and personalized content to your readers that matches their interests and needs.
Whether it's through AI-powered chatbots or expertly crafted blog posts, you can connect with your audience in a meaningful way and keep them coming back for more. So, why settle for generic content when you can provide an experience tailored specifically to your readers?
Taking Advantage of Cutting-Edge Tools to Automate Processes for Improved Efficiency
Whether you're managing a small business or operating on a large scale, automation can help you save time, money, and resources. By taking advantage of the latest tools and technology, you can simplify tasks, minimize errors, and focus on what really matters.
And the best part? You don't have to be a tech expert to get started. With user-friendly interfaces and intuitive features, automation tools are accessible to everyone. So, why not take the plunge and explore what automation can do for your organization? With the right tools at your disposal, anything is possible.
Monitoring Performance & Analytics With Artificial Intelligence
As a business owner, you already understand the importance of tracking your company's performance and analyzing data to gain insight into your customers' behavior. But let's face it, manually sifting through mounds of data can be a tedious and time-consuming task. By utilizing AI-powered analytics tools, you can monitor your company's performance in real-time, identify areas for improvement, and make data-driven decisions to enhance your bottom line.
Imagine having access to a system that can detect patterns, predict trends, and automatically deliver reports, all while freeing up time for you and your team to focus on other important tasks. Integrating AI into your monitoring and analytics strategy can give your business a competitive advantage and set you up for success.
Crafting a Winning Digital Strategy with AI to Grow Your Business Faster
With the right approach, AI can help you grow your business faster than you ever thought possible as it provides invaluable insights into consumer behavior, allowing you to fine-tune your marketing efforts and reach the right people at the right time. By utilizing AI-powered tools and platforms, you can streamline your operations, boost productivity, and enhance customer experiences.
With the power of machine learning, you'll be able to analyze vast amounts of data to identify patterns and trends, giving you a competitive edge in the marketplace. With the right digital strategy, AI can transform your business and help you achieve your growth goals.
In conclusion, AI-driven digital marketing offers numerous benefits for businesses looking to grow faster. From understanding the basics of AI-driven digital marketing to leveraging AI-driven search results and utilizing advanced language models to deliver targeted and personalized content, firms now have an array of tools at their fingertips to help boost their visibility and performance levels in a competitive marketplace.
Additionally, cutting-edge tools like natural language processing can be used to automate routine processes for improved efficiency, while real-time analytics and monitoring capabilities with artificial intelligence can help shape better-informed business decisions.
When you combine all the elements of your digital strategy with AI, you'll have access to a wealth of powerful insights that will allow you to quickly execute campaigns and maximize your ROI, thus, helping you stay ahead of the competition. With these strategies in hand, your business is primed for success as it embarks on its journey toward faster growth.
Discover how Google is using AI to streamline their search results and provide users with "zero clicks" for faster answers when you listen to the latest episode of the Digital Profits Podcast on Unleashing the Power of AI. Learn the importance of positioning your product or service in consideration sets used by AI-generated results in order to compete in this digital landscape, as well as tips to optimize your workflow and automate pieces of tasks. Plus, understand how you can leverage GPT-4 for creative purposes. Tune into the Digital Profits Podcast now and start growing your business faster!